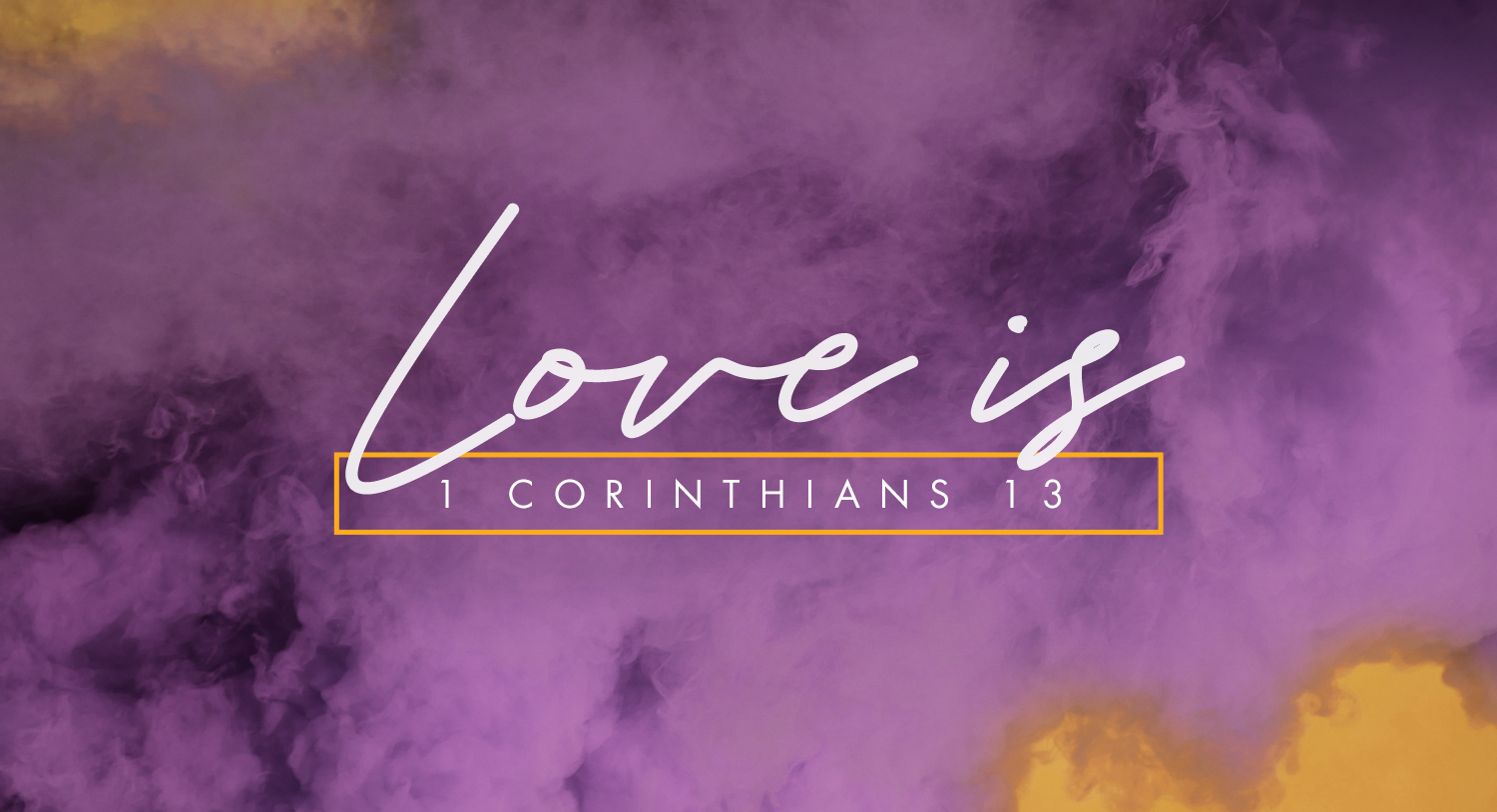 Series: Love Is
In 1 Corinthians 13:4-7 Paul is not merely describing love, but he is using verbs to show that love is defined by how it is put into practice.  This week, we see that when Paul writes that love is patient and kind he is say, love responds with patience and love extends kindness.

Citylight Delco | Online – September 13, 2020 from Citylight Church on Vimeo.
Resources:
Charity and It's Fruits – Jonathan Edwards
1 Corinthians – David Garland
The First Epistle to the Corinthians – Anthony Thiselton
Podcast: Play in new window | Download
Sermon Transcript
When I was a sophomore in high school I decided it would be a good idea to begin taking some higher level courses.  I wanted to beef up my transcript in anticipation of applying to college in the next two years.  Well somehow, maybe my parents remember this better than me, I decided I would try the highest level of Biology and US History that my school offered.  History was a roaring success; I had a great teacher and I loved the content.  For as much of a success as high level history was, biology was that much of a disaster.  I managed to stick with it throughout the entire year but it was really tough.  Through talking with my teacher and my parents we realized the difficulty was, I could memorize the content but I could not apply it.  So when I came time to take a test, I could answer questions about definitions or facts, but when I had to apply my knowledge of biology to a problem, I would flop.  I had knowledge of the content, but I could not apply it, I could not put into action.
Last week, Pastor Andy, explained to us that in the opening three verses of 1 Cor 13, Paul tells us that love is preeminent.  We may have spiritual gifts, we may be committed to the cause of faith, but if we have not love it is worthless.  We must love.
This week we are going to begin to look at Paul's words in verses 4-7.  But as you read these verses, verses that you may have heard many times before, do not hear them simply as definitions of love. See in the original language that this letter was written in, these descriptive words are not adjectives, but verbs.  
This morning our focus is on the beginning of verse 4 which reads, "love is patient and kind."  A more literal translation would be, love shows patience and love extends kindness.   One New Testament scholar says this about verses 4-7, "Love is not conveyed by words; it has to be shown. It can be defined only by what it does and does not do."[1]
So this morning we are going to begin reading how Paul instructs us to put love into action.  Just like I was asked in my high level biology class to not just define concepts, but apply them, we must not just memorize the definition of love, but put it into action.
This morning our big idea comes from the beginning of 1 Corinthians 13:4:
Love is patient and kind
How?
Love responds with patience
Love extends kindness
First, let's look together at how love responds with patience
What exactly does Paul mean when he writes that love is patient?  How are we to put that into practice?  Well, we need to quickly go back to the Greek language for a moment, the language used to write this this letter originally.  The particular verb that is used translates plainly into English as, long-suffering.  So Paul is writing, love is long-suffering.  Now, when you hear that maybe you responded like me and felt that the term long-suffering feels old englishy, its not a common term in our vocabulary.  So think of it instead as this love is long-tempered or even love has a long fuse, rather a short fuse.  What Paul is really getting at, what he is pushing against the Corinthian church with is the idea that love is slow to respond, love is slow to anger.  When love is wronged by someone else, love responds patiently by exhibiting a long fuse.
Paul actually exhorts another church with this same cause – to be patient, to have a long-temper.  Listen to his words in 1 Thessalonians 5:14:
And we urge you, brothers, admonish the idle,[c] encourage the fainthearted, help the weak, be patient with them all.
Paul is asking the church in Thessalonica to act patient with the weak.  Do not be quick to grow frustrated with them or angry.  Have a long-fuse as they grow.
Another example in Scripture of this type of patience is found in one of Jesus' parables.  According to Matthew 18 Jesus is explaining to the audience that there is king who is reconciling debts with those who are indebted to him.  One man owes him around 10,000 talents, which an insane fantasy type amount of money, kind if like when we say zillions.  This particular servant was in a deep hole:
26 So the servant[i] fell on his knees, imploring him, 'Have patience with me, and I will pay you everything.' 27 And out of pity for him, the master of that servant released him and forgave him the debt.
Jesus' point with such an outlandish quantity of debt is to show the outlandish forgiveness that is extended to the people of God.  The king did not simply wait for the servant to come up with a zillions dollars, he simply extended extravagant patience.
Love is patient means to have a long-fuse, be long-tempered towards others when we are wronged.
This is a radical concept.  Having a long-fuse can feel unnatural.  So, then we are left to ask, how can we cultivate this type of long-suffering patience within ourselves because if we begin to develop this then it fills our church.
In order to become long-tempered we need to remember Paul's words from Romans 12:19:
Beloved, never avenge yourselves, but leave it to the wrath of God, for it is written, "Vengeance is mine, I will repay, says the Lord."
Scripture helps us see that we are often quick to grow angry with others and let bitterness take root in our hearts because we forget that God is in control.  And when we forget that the Lord's sovereign reign is good we take vengeance on someone.  When Christians take vengeance for the ways they have been wronged they are doing the complete opposite of what Paul is teaching about.  Taking vengeance is having a short-fuse, not a long-fuse.  Now taking vengeance sounds violent, and it certainly can be, but the way you and I likely take vengeance for our wrongs is by gossiping about another person's actions towards us.  We tear them down behind their backs or make a passive aggressive comment on social media.  Or we give them the silent treatment.
When instead, being long-tempered, responding with long-suffering means that we do not dishonor someone else with our words and in our hearts.  But it also not sitting back and not offering correction, instead we are to respond with fairness, polite words, and love.  It is good and right for us to share with someone when they have hurt us.  But it is also good and right to be long-suffering, to have a long-fuse and bear the injuries from someone else knowing that the Lord is the ultimate judge.
So this morning, let me ask you, where is an area in your life when you are quick to lose your temper?  Where is your fuse short?
I want you to think deep here.  Are you holding bitterness in your heart because you disagree with how your boss leads?  Are you constantly gossiping to a roommate or spouse about that one co-worker who just doesn't seem to do anything according to common sense?  Are you seeking out opportunities to put someone down on facebook because of their political views?
Church love is patient, love is long-suffering.  Love builds up instead of tearing down.  Love bears the injuries of being wronged rather than allowing bitterness to take hold of our hearts.  If we are a people loving as Paul asserts that Christians should, our church, our Citygroups, would be filled with a lot more grace.  We would be quicker to apologize, quicker to loving speak with someone that has wronged us rather than gossiping.  We would be quicker to accept those that are different than us.  We would be quicker to experience the freedom of following our elders rather than evaluating and critizing decisions that are made.
And we would be different, we would be radically different.  Our church would be an example of love applied.  The culture would be refreshing compared to our work places or maybe even our families.  Our culture would get a glimpse of the kingdom of God.
Love responds with patience, but love also extends kindness.  Let's look now at the second verb Paul uses to help understand how we can apply our love.
Just as we considered how to put into practice patience, let's consider now how to put into practice kindness.  Here are some scholars' thoughts on how we can understand the use of the word kind in this verse.
…does his utomost to be helpful and thoughtful always in a pleasant way
…showing sweetness to all people
…freely to do good to others
Let's think of that final statement especially; when Paul states that love is kind he saying to the Corinthian church, love freely extends good to others.
Let's consider further two aspects of kindness to better grasp the meaning.
First it is extended to others.  You may extend kindness to someone by writing them an encouraging note, or sending them a text thanking them for a specific reason.  You may even extend kindness in person with your words, nourishing another's soul with Scripture.  Or kindness can be extended to others by meeting their needs.  This could include joyfully helping a friend move, or learning how you can serve your neighbor across the street and then actually doing something.
Church showing kindness to others means all people.  We should seek to do good to those in our family, friends, enemies, and those we do not know.
Secondly, kindness is extended to others, freely.  Kindness is not about you!  We should extend kindness with joy, not with grumbling or complaining.  Paul says that those who do acts of mercy should do so with cheerfulness.  Extending good to others freely also means that we should do good to others without expecting anything in return.  We should freely extend good to others in a generous way.
With these examples in mind of how love freely extends good to others let's think specifically about what this looks like in the local church.
In the second century, the African church Father, Tertullian wrote that the kindness of the Christians in his days was so characteristic of who they were, it was so counter-cultural that they were actually referred to by a word in English that means "made up of kindness." 
Paul affirms the value of showing others kindness especially to those in the local church in Galatians 6:10
So then, as we have opportunity, let us do good to everyone, and especially to those who are of the household of faith.
If we, as the local church here in Drexel Hill, Upper Darby, extended good to all people, especially those in the church, freely we too would stick out.  We too would be a beacon of love in our community.
One thing I love about our church that exemplifies your kindness is the speed in which meal trains are setup, and the quickness that people signup to bring a meal to those in need.  Recently, we've had a few babies arrive in our church and I have loved going into the meal train to sign up to bring a meal and seeing so many of you doing the same.  I also think of Britt Resh who knew my wife was little leery of school being online this fall so she dropped off a little gift as encouragement last month.  Or I think of Ben and Amy Riggs who are always quick to ask how I am doing and listen as I share.  Our church is so free to do good to others.
But how can we engrain freely doing good to one another into our church culture?  Who is someone that you can encourage or meet their needs?  Is there someone in your Citygroup that you could reach out to to check in with?  Is there a family on your street that is trying to navigate a school year with their children learning at home?  How can you extend good to them freely?  Let's be a church that is quick to do good to our brothers and sisters.  Let's be welcoming as members and guests arrive for church or Citygroup.  Let's be thoughtful and helpful to each other, when we exhibit clear need, but even we do not.
Love responds with patience and love extends kindness.  Love is longsuffering, it has a short-fuse, love extends good to others freely.
Putting into action the type of love Paul is exhorting us to apply here in 1 Cor 13:4 requires first and foremost, we lay down our desires.  Neither patience nor kindness are about us.  Yet we can extend this type of love, we are empowered to do so because of the great love with which God has loved us.  God has been both patient and kind to us over and over again.
Ephesians 2 tells us that we were dead in our sins, completely disobedient to the ways of God.  Yet God, in his great love for us, extended long-suffering patience, he had a long fuse with us, and made us alive by sending his son to die for us so that we might inherit a secure inheritance with Christ in heaven.  We did not deserve that; God could have had a short-fuse with us and condemned us, but he chose to be long-suffering.  As Christ was facing persecution he, according to Scripture, "did not revile in return; when he suffered, he did not threaten but continued entrusting himself to the one who judges justly."
Church when we suffer for the cause of Christ, when we are wronged we can look to God who extended great long-suffering, a long-fuse towards us and granted us such free grace.  We are free to extend a long-fuse to others as we entrust ourselves to the one who judges justly, as Christ did.
And we can do good to others freely because our inheritance is secure for us.  Furthermore, we did not earn that inheritance, God freely extended that to us in his kindness.  Again, Ephesians 2 says, that we were made alive "so that in the coming ages he might show the immeasurable riches of his grace in kindness towards us in Christ Jesus."  God has been kind to you in extending salvation to us by faith alone, he does not require us to bring anything to the table to be saved, except a repentance for our sin.
And so much of Jesus' ministry is him showing kindness freely: he does good to the woman at the well offering her eternal life.  He does good to the woman caught in adultery, he does good to Matthew the tax collector, making him a disciple.  He does good freely to Peter by restoring him after he denied him three times.  Jesus exemplifies freely doing good to others.
With that in mind, that God has put love in action by being both patient and kind towards us, and with Christ's examples of patience and kindness, let us love others by responding with a long-fuse and freely extending good to others.
Let's pray.