Fear not
Given on Feb 19, 2023 by Matt Cohen at Citylight Manayunk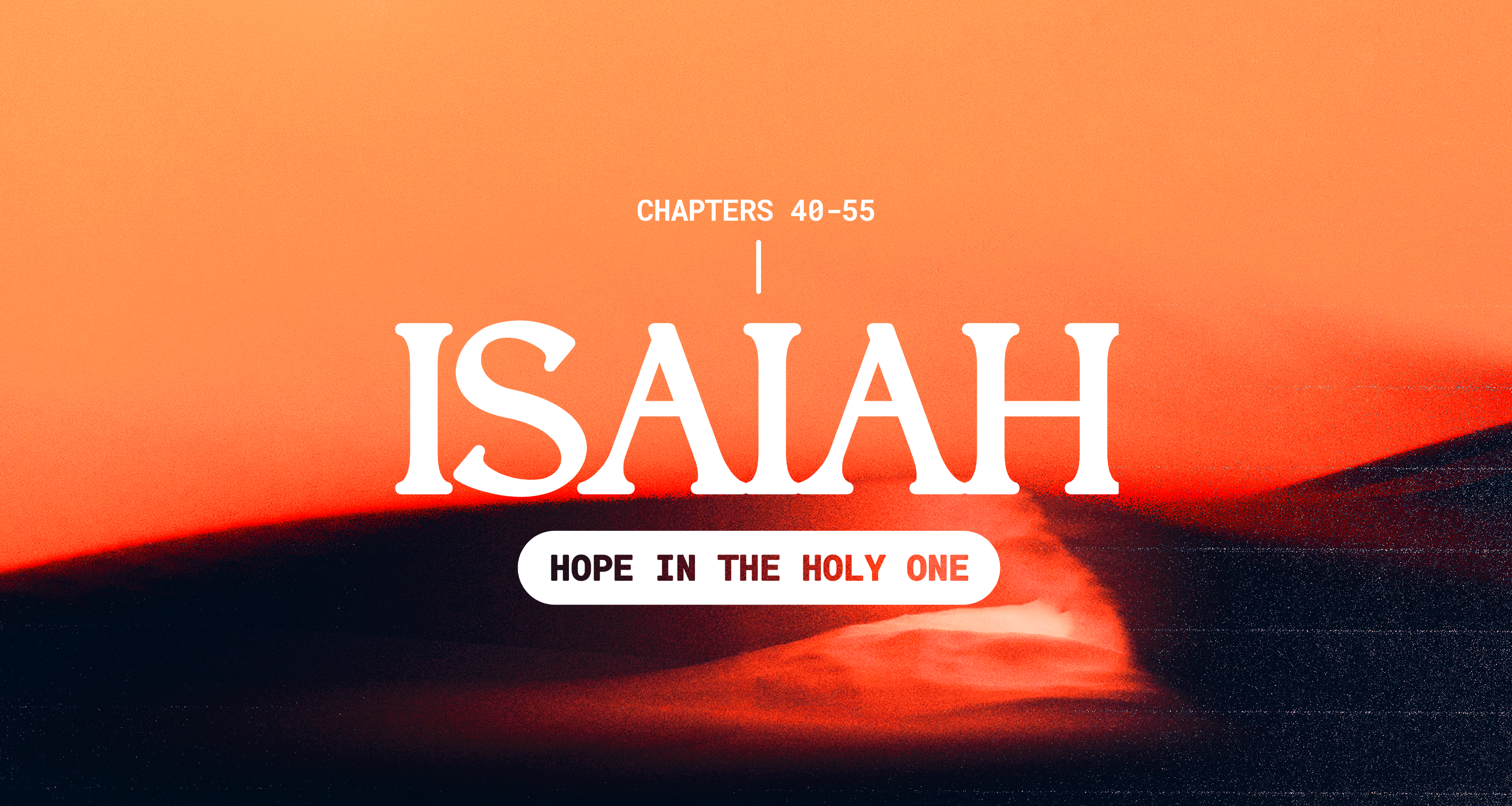 Series: Isaiah: Hope in the Holy One
In one of Pastor Matt's most encouraging sermons yet, he shows us how Isaiah tells us we can FEAR NOT because
1. He rules (40:1-4)
2. He is with you (40:5-16)
3. He refreshes (40:17-20)
Resources:
The Prophecy of Isaiah: An Introduction Commentary by Alec Motyer
Isaiah: God Saves Sinners (Preach the Word Commentary) by Ray Ortlund
ESV Study Bible
Podcast: Play in new window | Download
Sermon Transcript
What are you afraid of? What are you worried or anxious about? What is coming down the pike that is consuming your thoughts and concerns? What are you worried won't ever change or is changing for the worse? What do you fear? For me, it's decisions. Decisions scare me. Tomorrow – big facility decision. Fear keeps me in indecision and decision avoidant when love would look like engaging and taking a next step even though I can't guarantee how it will turn out. That's the insidious power of fear and it's a problem for all of us. Fear will lead you to settle a mediocre and unsatisfying kind of Christianity, believing that's better than the risky alternative. Fear is a problem. 
Now, I want to show you how to make matters worse when it comes to fear. Look with me at Isaiah 41:5 – The coastlands have seen and are afraid; the ends of the earth tremble; they have drawn near and come. In Isaiah, "coastlands" is shorthand for people-groups or nations that don't worship the Lord. The coastlands are afraid. Something is coming, we'll get into what it is in a minute, but something is coming down the pike that is genuinely frightening. Now, watch how they react because it's a common reaction to frightening circumstances and it makes matters worse. Isaiah 41:6-7 – Everyone helps his neighbor and says to his brother, "Be strong!" (Ok – nothing wrong with that. Who doesn't need some encouragement when they're scared. What do they encourage one another to do?) 7 The craftsman strengthens the goldsmith, and he who smooths with the hammer him who strikes the anvil, saying of the soldering, "It is good"; and they strengthen it with nails so that it cannot be moved. They're encouraging one another to fashion an idol. They're looking into the future – that's fear's preferred time zone – they see something scary coming, and they help each other make an idol! That's how you trouble your troubles when you're afraid. Idolatry, according to the New City Catechism, is trusting in created things rather than the creator for hope and happiness, significance and security. Idols always over-promise, under-deliver, and when you turn to them for hope, happiness, significance, or security when you're afraid, it only troubles your troubles. I wonder, what created things, rather than the creator, do you look to for hope, happiness, significance and security when something scary or anxiety-inducing is rolling down the pike? Whatever it is, it will only trouble your troubles. 
In Isaiah 41:1-20, the Lord offers his people, and all of us, an alternative response to idolatry when frightening circumstances come rolling in. The alternative first surfaces at the beginning of verse 10: Fear not! The alternative is repeated in verse 13: it is I who say to you, "fear not…" And if that were not enough, again in verse 14: Fear not… That brings us to the big idea of our passage. Very simple: Fear not. Fear not! Instead of turning to idols and making matters worse, when frightening situations come rolling in, fear not! Easier said than done. Thankfully, the Lord, through the prophet Isaiah provides us with three reasons why we "fear not": 1. He rules (40:1-4) 2. He is with you (40:5-16) 3. He refreshes (40:17-20). 
HE RULES (41:1-4)
Let's take a closer look at what the "coastlands" – those who didn't worship the Lord – were afraid of. I think we'll see some of our fears in what they're afraid of. Isaiah 41:1 – Listen to me in silence, O coastlands; let the peoples renew their strength; let them approach, then let them speak; let us together draw near for judgment. 2 Who stirred up one from the east whom victory meets at every step? He gives up nations before him, so that he tramples kings underfoot; he makes them like dust with his sword, like driven stubble with his bow. 3 He pursues them and passes on safely, by paths his feet have not trod. 4 Who has performed and done this, calling the generations from the beginning? I, the LORD, the first, and with the last; I am he. The coastlands are afraid of a conquering ruler who is coming from the east. Who is this conquering ruler that Israel's Babylonian captors fear? Our best guess is that the one from the east is Cyrus the Great from Persia. He was conquering everyone, everything, and he's coming for everyone, including the Babylonians. But notice why the Lord's people don't need to be afraid. Verse 2– It's the Lord who stirred up Cyrus. Verse 3 – It's the Lord who gives up nations to Cyrus' conquering march. Verse 4 – The Lord tells his people, "don't fear the rulers that the nations fear, I rule over rulers." Fear not! He rules. He rules over rulers. As Proverbs 21:1 says "The king's heart is a stream of water in the hand of the LORD; he turns it wherever he will." 
Rulers can be scary. Look around the world right now and there are rulers who are acting in ways that could trigger WWIII. You might think it could never happen, but notice the number: WWIII. It has happened before. Tensions among the world's most powerful nations and rulers are as high as I've seen in my lifetime. People are trembling. Add to that, here at home the 2024 presidential campaign is coming, believe it or not. You will hear that if this person is elected or that person is elected, then the future of the United States and the future of democracy is doomed. People will tremble. But not us. No matter the movement of rulers or the election of presidents, we do not fear because our God rules over rulers. Citylight Church – this is how we shine as lights in this chaotic world. I've heard one pastor say that in our world of chaos, calm is our prophetic voice. Citylight – now would be a great time to settle that we will not panic over or be consumed by the next presidential election – to the glory of God. We're not calm because we stick our heads in the sand. Fear not because He rules over rulers. Let's turn now to the second reason why we fear not…
HE IS WITH YOU
Our daughter Sage is six years old and she's afraid of the basement. It's dark and I've even caught a small snake or two down there. Like most of your fears, Sage's fear of the basement isn't wholly illogical. She's afraid. If there is something in the basement that Sage wants, she stands at the top of the stairs trying to psyche herself up, but she barely moves. Telling Sage that there is nothing to be afraid of in the basement doesn't help at all. Haven't you noticed that your fears don't care about the facts? But if I go with Sage, if I hold her hand, she walks down the stairs without a care in the world. I am with her and she believes daddy cares enough and is capable enough to take care of anything we find down there. Citylight Church – whatever you're facing in the basement of this world, fear not because He is with you. While you live as exiles, sojourners, and strangers in this world, waiting for the Lord Jesus Christ to come again to end your exile, finally defeat your sin, and banish death forever, don't be afraid because He is with you while you wait. Fear not because He is with you. 
Before he tells his people that he's with them, the Lord reminds his people what they mean to him. Isaiah 41:8-9 – But you, Israel, my servant, Jacob, whom I have chosen, the offspring of Abraham, my friend; 9 you whom I took from the ends of the earth, and called from its farthest corners, saying to you, "You are my servant, I have chosen you and not cast you off"… The Lord calls Israel, even Israel in exile because of their sins, the offspring of Abraham whom he has chosen. Therefore, he will not cast them off in the midst of their fears. How do we apply that? What do we do with promises made to Abraham and his offspring in the Old Testament? If you are in Christ, you embrace them, savor them, and bank your life on them because they are yours! Galatians 3:7 says, "Know then that it is those of faith who are the sons of Abraham."  2 Corinthians 1:20 says, "For all the promises of God find their Yes in him [the Lord Jesus Christ]."  If you are in Christ, it's because God chose you! Ephesians 1:4-5 – "even as he chose us in him before the foundation of the world, that we should be holy and blameless before him. In love 5 he predestined us for adoption to himself as sons through Jesus Christ, according to the purpose of his will…" And since he has chosen you, he will never cast you out. Jesus said, "All that the Father gives me will come to me, and whoever comes to me I will never cast out" (John 6:37). Fear not. He is with you, and he's with you because he chose you!
All the promises of God in our passage are yours in Christ. Let's look at them. Isaiah 41:10 – fear not, for I am with you; be not dismayed, for I am your God; I will strengthen you, I will help you, I will uphold you with my righteous right hand.  Think about the potential frightening things that are coming your way. None of them are more powerful than God, none of them will last longer than God, and none of them will separate you from the love of God in Christ. Fear not because he will be with you, he will help you through, and even if it kills you, he will raise you from the dead with his righteous right hand. Fear not because He is with you. 
Now, at this point we need to answer a question. What exactly does it mean to "fear not"? It probably doesn't mean that when frightening things come at you, your heart rate never rises. It's not a sin for Sage to have a racing heart, sweaty hands, or a fluttering stomach when I ask her to get something from the basement. "Fear not" means that when frightening circumstances come, you don't try to sin your way out of them or turn to created things for ultimate hope and happiness, significance, and security. Instead, "fear not" means that you entrust yourself to the Lord, you ask for his strength to remain faithful, you rely on his resources to make it, and you sing and pray your way through the fear. Fellowship and prayer are the antidote to fear. Be anxious for nothing; pray about everything (Phil. 4:6). "Fear not" has everything to do with how you respond to what scares you. Fear not because He is with you!
And since he has promised to be with you, one day everything you fear will be as nothing. Isaiah 41:11-13 Behold, all who are incensed against you shall be put to shame and confounded; those who strive against you shall be as nothing and shall perish. 12 You shall seek those who contend with you, but you shall not find them; those who war against you shall be as nothing at all. 13 For I, the LORD your God, hold your right hand; it is I who say to you, "Fear not, I am the one who helps you." You won't even be able to find your enemies one day because the Lord is with you, will be with you, and he will help you! So, fear not, even if you feel as weak as a worm. Isaiah 41:14-16 – 14 Fear not, you worm Jacob, you men of Israel! I am the one who helps you, declares the LORD; your Redeemer is the Holy One of Israel. 15 Behold, I make of you a threshing sledge, new, sharp, and having teeth; you shall thresh the mountains and crush them, and you shall make the hills like chaff; 16 you shall winnow them, and the wind shall carry them away, and the tempest shall scatter them. And you shall rejoice in the LORD; in the Holy One of Israel you shall glory. The exiles were facing the greatest superpower in the world – Babylon. They were slaves and exiles. No hope. BUT the Lord says, "I'll help you. Those who contend with you won't even exist soon." Anyone taken a trip to Babylon lately?! Fear not. And then he calls his people a worm. That's great. Who hasn't felt as weak and worthless as a worm in the face of your fears?! But even a worm can become a threshing sledge when the Lord is with you. Citylight Church – you may not face Babylon, but you have an unholy trinity of enemies that oppose you while you wait for the Holy One: the world, your flesh, and the Devil. But the Lord Jesus Christ has overcome them all! He has overcome the world (John 16:33), he has thrown down the Devil through his death on the cross (Revelation 12:7-12), and he has defeated your sin so that you are dead to sin and alive to God through his death and resurrection to new life (Romans 6:10-11). And upon rising from the grave, he sent His Holy Spirit to live in every one of his followers and Jesus' name for the Holy Spirit is Helper. God's very presence is in you to help you not sin your way through your fears or turn to created things for hope, happiness, significance, and security! The Holy Spirit is in you to help you keep praying, keep obeying, keep repenting, and keep rejoicing. Fear not because He is with you! Sometimes the cumulative effect of fear frightens us. It's exhausting…
HE REFRESHES
Isaiah 41:17-20 – When the poor and needy seek water, and there is none, and their tongue is parched with thirst, I the LORD will answer them; I the God of Israel will not forsake them. I will open rivers on the bare heights, and fountains in the midst of the valleys. I will make the wilderness a pool of water, and the dry land springs of water. 19 I will put in the wilderness the cedar, the acacia, the myrtle, and the olive. I will set in the desert the cypress, the plane and the pine together, 20 that they may see and know, may consider and understand together, that the hand of the LORD has done this, the Holy One of Israel has created it. I know it can be exhausting, but don't be afraid because he refreshes you. His refreshment is already here, even though it's not yet complete. will refresh us with pools of water in the wilderness. That sounds a lot like what the Lord Jesus Christ said he will do for all who come to him. John 7:38 – Whoever believes in me, as the Scripture has said, 'Out of his heart will flow rivers of living water.'" Come to him all who are thirsty. Come with your temptations, your trials, your sins, and your setbacks and ask him to refresh you with the wonderful news of eternal life until the day when you are refreshed forever! Fear not while you wait for the Holy One to give you the ultimate refreshment of living water. Revelation 22:1-5 – Then the angel showed me the river of the water of life, bright as crystal, flowing from the throne of God and of the Lamb 2 through the middle of the street of the city; also, on either side of the river, the tree of life with its twelve kinds of fruit, yielding its fruit each month. The leaves of the tree were for the healing of the nations. 3 No longer will there be anything accursed, but the throne of God and of the Lamb will be in it, and his servants will worship him. 4 They will see his face, and his name will be on their foreheads. 5 And night will be no more. They will need no light of lamp or sun, for the Lord God will be their light, and they will reign forever and ever. Fear not because he rules, he is with you, and he refreshes.
CONCLUSION
So, how am I dealing with the fear of making this decision tomorrow, in light of this passage?