Rebuilding Requires Rededication
Given on Mar 21, 2021 by Matt Cohen at Citylight Manayunk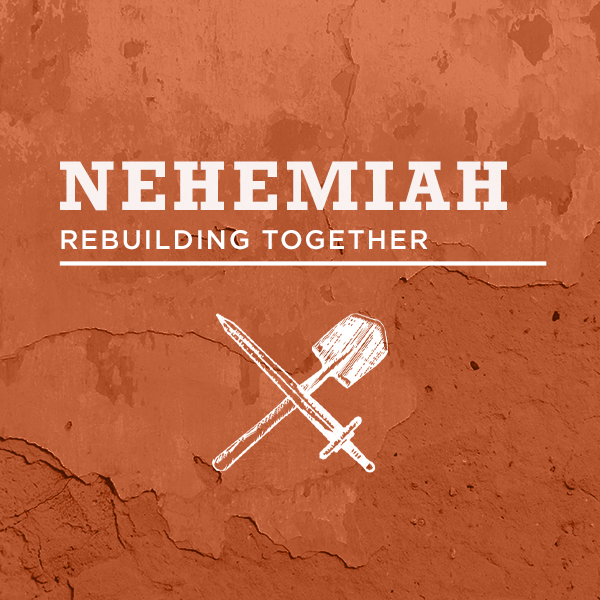 Series: Nehemiah: Rebuilding Together
Nehemiah 12 provides three ways to enjoy our weekly gatherings for the rededication ceremonies that they are: 1. Prepare yourself, (2) Sing joyfully together, and (3) Support God's workers.
Resources:
Nehemiah 12: 27-47
NICOT commentary on Nehemiah
Tyndale commentary on Nehemiah
ESV Study Bible
Podcast: Play in new window | Download
Sermon Transcript
One of my favorite pictures of all time is this one from our son Soren's dedication. It's a classic, you got one of our dearest friends, Pastor Tim, leading a prayer of dedication while my beautiful wife reverently bows her head while me and my boy are irreverently making smiley faces at each other. It was a special day in which Andrea and I, and the church, dedicated ourselves to delighting in Soren and raising him in the discipline and instruction of the Lord. In our passage this morning we read about a similar ceremony in which God's people rededicate the city of Jerusalem and its newly rebuilt wall of protection, down to the very last stone, to the glory and purposes of God. And that brings us to the big idea of our passage this morning: rebuilding requires rededication. Now, before we get into the details of our passage, we need to first figure out what in the world the rededication of Jerusalem and its wall has to do with us. We're going to do some heady theology. You ready? Ok. Where is Jerusalem now? You could say, "in Israel." True. But remember the significance of Jerusalem in the OT. In the OT, Jerusalem was the city of God, where God uniquely dwelt and was present with his people. Where does God uniquely dwell now that Christ has lived, died, and ascended to heaven? Where is Jerusalem now? In Galatians 4:6, Paul says, "But the Jerusalem above is free, and she is our mother." In his vision of the end of all things, John writes, "And I saw the holy city, new Jerusalem, coming down out of heaven from God" (Revelation 21:2). True Jerusalem, the city of God where God uniquely dwells is in heaven above. But don't miss this: every true local church, is an outpost or embassy of heavenly Jerusalem here on earth because the local church is where God dwells by His Spirit. As Ephesians 2:22 says, "In him you [the church] also are being built together into a dwelling place for God by the Spirit." When we gather together as the church, we are an outpost of the New Jerusalem where God now dwells. Here is the point: The way that we "rededicate Jerusalem" today is by rededicating our church to the glory of God again and again as we gather together each Lord's Day for worship. Corporate worship on the Lord's Day is the gathering of God's people by his grace, for his glory, for our good, and before a watching world (Matt Murker). This gathering is our biblically prescribed, weekly rededication ceremony where we give ourselves to the glory of God again. Ok, now we're ready to get into the details. Nehemiah 12 provides three ways to enjoy our weekly gatherings for the rededication ceremonies that they are: 1. Prepare yourself, (2) Sing joyfully together, and (3) Support God's workers.
PREPARE YOURSELF (12:27-30)
Nehemiah 12:30 shows us how the celebratory re-dedication ceremony began: And the priests and the Levites purified themselves, and they purified the people and the gates and the wall. They don't rush into the worshipful celebration, rather, they prepare by purifying themselves, which probably included washing their bodies and their clothes. They prepare themselves.
Andrea and I don't watch much T.V., but in an attempt to increase our cultural knowledge we've started watching the Netflix series The Last Dance, which is about basketball icon Michael Jordan's final season playing for the Chicago Bulls. Along with being a basketball icon, Jordan also pioneered the "baggy shorts" look in the NBA. Before Jordan, NBA players wore short shorts. But I recently learned that to prepare himself for big games, Jordan would put on his old UNC basketball short shorts and wear them under his Bulls shorts in order to motivate and prepare himself for greatness.
What the priests, Levites, and Michael Jordan all knew is that to rightly experience the weight and joy of momentous occasions, we have to prepare ourselves. And there is literally nothing on this planet more momentous and significant than the weekly, Lord's Day worship gathering of God's people by his grace, for his glory, for our good, and before a watching world. We ought to prepare ourselves for this because there are no normal Sundays. We are going to meet with one another, and not just one another, with God himself. Let's prepare ourselves for this! There are a few ways to prepare yourself for this weekly rededication worship gathering. First, come well rested, well fed, and expecting to meet with God and God's people. Second, pray over the service, the leaders, the other members, the guests, the non-Christians, and your own heart before coming to church. Examine your heart and confess your sins as preparation for worship. In Pandemic days, the time each week when you register is a perfect time to pray for the service. Finally, come needy for a touch of God's love in a world where we never measure up. Rebuilding requires dedication so first, prepare yourself.
SING JOYFULLY TOGETHER (12:27-43)
Once the priests and Levites purify and prepare themselves, all the people, and the wall itself, the rededication ceremony really gets going. Nehemiah assembles the leaders and appoints two massive choirs with probably hundreds of singers in each choir. One choir heads north, the other heads south in two huge parades, joyfully claiming every last stone for God in song. We read the culmination of the rededication ceremony in verses 42-43: And the singers sang with Jezrahiah as their leader. 43 And they offered great sacrifices that day and rejoiced, for God had made them rejoice with great joy; the women and children also rejoiced. And the joy of Jerusalem was heard far away. Singing joyful songs of thanksgiving is the way they rededicate the rebuilt city to God's glory.
The way that we rededicate ourselves as the church for God's glory, our good, and before a watching world, so that our joy is heard far away, is by gathering each Lord's Day to sing joyfully. You may be wondering, "what's the big deal with singing?" "Why is singing at the heart of our weekly rededication to God's glory?" Did you know that we are actually created to sing? Psalm 19 says that the heavens declare the glory of God and sky above proclaims the work of his hands. And it's not just the stars that were made to sing. In Psalm 139:14, the Psalmist writes, "I praise you, for I am fearfully and wonderfully made."
We were created to sing and because the Lord desires our greatest joy, we're also commanded to sing. There are over 400 references to singing in the Bible and over 50 direct commands to sing, making "Sing!" the most common command in the Bible. And God's commands are pure and perfect.
Not only are we created and commanded to sing, but we are saved to sing together. Singing joyfully together for the glory of God, with all of our diversity coming together as one voice, is actually where our redemption culminates. We know this because after a dozen chapters of the richest gospel-theology, listen to the way that Paul's letter to the Romans culminates. Romans 15:5-6: May the God of endurance and encouragement grant you to live in such harmony with one another, in accord with Christ Jesus, 6 that together you may with one voice glorify the God and Father of our Lord Jesus Christ. Gospel-theology is meant to culminate is gospel-doxology. We are saved for the joy of belong to God, which makes us sing! We are saved to sing. But don't miss this: we are saved to sing together. Why is that so significant? In Ephesians 5:18-19, the Apostle Paul writes, "And do not get drunk with wine, for that is debauchery, but be filled with the Spirit, 19 addressing one another in psalms and hymns and spiritual songs, singing and making melody to the Lord with your heart…" Notice how Paul says that when we sing, we are addressing one another! When we gather each week to sing, there are actually two audiences: God and one another. When we sing, we praise God and when I hear you sing and see you lift your hands, my attention is arrested, and my faith is encouraged by your praises. Recently, I've struggled to feel forgiven for my sins. No matter how much I've meditated on the biblical promises that all of my sins have been forgiven by the mercy of God in Christ, the feeling of being unforgiven has lingered. But a couple Sundays ago, I got to hear you sing the song His Mercy is More, which repeats the refrains "ours sins they are many, his mercy is more." My heart was deeply moved and formed by hearing you sing to God and to me. We are created, commanded, and saved to sing.
And we also sing so that those far away from God will hear our joy in Jesus. Tim Keller, who by all accounts is the most successful evangelist in the history of New York City writes, "Glorious worship is exuberant, never half-hearted. It is attractive, not off-putting. It is awesome, never sentimental. It is brilliant not careless. It points to God, not the speakers…There is nothing more evangelistic, nothing that will win the world more than glorious worship." Worshipful singing is witness. I can still remember the night that I first confessed Christ as Lord. It was December 31, 2000 and I went with my friend to his church's NYE gathering. For the first time in my life, I saw a people gathered together in exuberant worship. The effect that it had on me is more than I could put into words. The Father used the singing to draw me to Christ. I was captivated by their love for Jesus expressed in song. It was as captivating as meeting a wife who genuinely adores her husband. Just as her admiration shows off her husband's glory, so their worship showed off the glory of God and captivated my heart. Rebuilding requires rededication through joyful singing together because we are created, commanded, and saved to sing for God's glory and the good of the watching world, so our joy will be heard far away, as in the days of Nehemiah.
And we sing as preparation for heaven when we will gather with billions of saints from every tribe, tongue, and nation and sing to the glory of God with joy inexpressible and full of glory forever. Our singing is unspeakably significant. It's the way that we rededicate ourselves to be the people of God for the glory of God and it's the way we prepare for glory.
Given the significance of singing joyfully together, I want to provide you with a few tips when it comes to singing joyfully together. First, I recommend keeping your eyes open when you sing. When you see other believers lift their hands in exuberant worship, it will lift up and strengthen your faith and your singing. Second, engage your body in worship. As 1 Timothy 2:9 says, lift up holy hands or even bow your knees in exuberant and contrite worship because this helps engage your mind with God in worship and also instructs others. Finally, sing loudly, even when wearing a mask and even if you've got a voice that sounds like men. Why? Because your songs have a primary audience, that's God, and a secondary audience, and that's the rest of us. Sing loudly in joyful thanksgiving to God for all that he's done for us in Christ and sing loudly because you're addressing, exhorting, and encouraging the rest of us with your songs of praise. Yes, God can hear your quiet singing, but we can't, and we need your singing. Sing because God is worthy, we are needy, and the world is listening. Rebuilding requires rededication as we prepare ourselves, gather weekly to sing joyfully, and…
SUPPORT GOD'S WORKERS
As the rededication ceremony reaches its conclusion, God's people realize that they don't want the celebration to end. So they decide to generously support God's workers at the temple so that worship outlasts the rededication ceremony itself. Nehemiah 12:44: On that day men were appointed over the storerooms, the contributions, the firstfruits, and the tithes, to gather into them the portions required by the Law for the priests and for the Levites according to the fields of the towns, for Judah rejoiced over the priests and the Levites who ministered. Don't miss why they decide to support God's workers. Look again at the end of verse 44: for Judah rejoiced over the priests and the Levites who ministered. The people financially support God's workers at the temple because they rejoice over the ministry of the priests and the Levites and long for worship to continue.
Now that Christ as lived, died and risen, the church is the new temple where God dwells with his people and where we uniquely assemble to worship God in word, song, and sacrament. And we don't have priests and Levites any longer, but the church still has official workers or officers: elders or pastors and deacons. And the Bible calls Christians to support the church's workers. Now, I admit that this could be a little awkward and seem a little self-serving for me to teach you how to pay and support me and your other pastors, but you know what, we're family and you've set me aside to teach you God's word. Here is the simple, biblical principle I want to teach you: congregations should strive to pay at least some of their pastors full-time. 1 Timothy 5:17-18: Let the elders who rule well be considered worthy of double honor, especially those who labor in preaching and teaching. 18 For the Scripture says, "You shall not muzzle an ox when it treads out the grain," and, "The laborer deserves his wages." The principle here is that just as an ox needs provision to plow for a lifetime, so pastoral longevity, especially for those who labor in preaching and teaching requires generous provision. Galatians 6:6: Let the one who is taught the word share all good things with the one who teaches. The principle here is that for the sake of the church's health, at least one pastor should be set apart full-time to teach the word and those who receive said teaching should share all good things with them since they cannot hold typical employment. 1 Corinthians 9:14: In the same way, the Lord commanded that those who proclaim the gospel should get their living by the gospel. Friends, I'm not teaching you this because I need a raise. Pastors Tim, Andy, Mike, Mark, Paul, and myself are generously compensated as your full-time pastors. I am saying this because you've charged me to teach you God's word. Now, here is my hope: that like the people of Judah, you so rejoice over the ministry of your pastors to you, that you joyfully support our work through regular, joyful, and sacrificial financial giving. Rebuilding requires rededication and we rededicate our church to God's glory by preparing ourselves to gather each Lord's Day to sing together joyfully and support God's workers. We do all this in order to richly enter into God's presence. But there is just one piece missing: Like the people of God in Nehemiah, we too need to be purified to truly enter into God's presence now and forever. But unlike the people of God in the Old Testament, we don't need a priest who needs to cleanse himself and then cleanse us again and again before we can enter into God's presence. As the New Testament says in Hebrews 9:11-14: But when Christ appeared as a high priest of the good things that have come, then through the greater and more perfect tent (not made with hands, that is, not of this creation) 12 he entered once for all into the holy places, not by means of the blood of goats and calves but by means of his own blood, thus securing an eternal redemption. 13 For if the blood of goats and bulls, and the sprinkling of defiled persons with the ashes of a heifer, sanctify for the purification of the flesh, 14 how much more will the blood of Christ, who through the eternal Spirit offered himself without blemish to God, purify our conscience from dead works to serve the living God. The reason why we can gather with God and his people for God's glory, our good, and witness to the world through joyful songs is because we have Jesus who is our Great High priest who went to the cross and offered himself as the final sacrifice to purify forever all who believe. Friends, you're clean in Christ forever and you never have to be purified again. The work is finished. And now you can enter into God's presence with God's people and sing joyfully to God and generously support God's work.