Sing to the LORD, Not Idols
Given on Feb 26, 2023 by Matt Cohen at Citylight Manayunk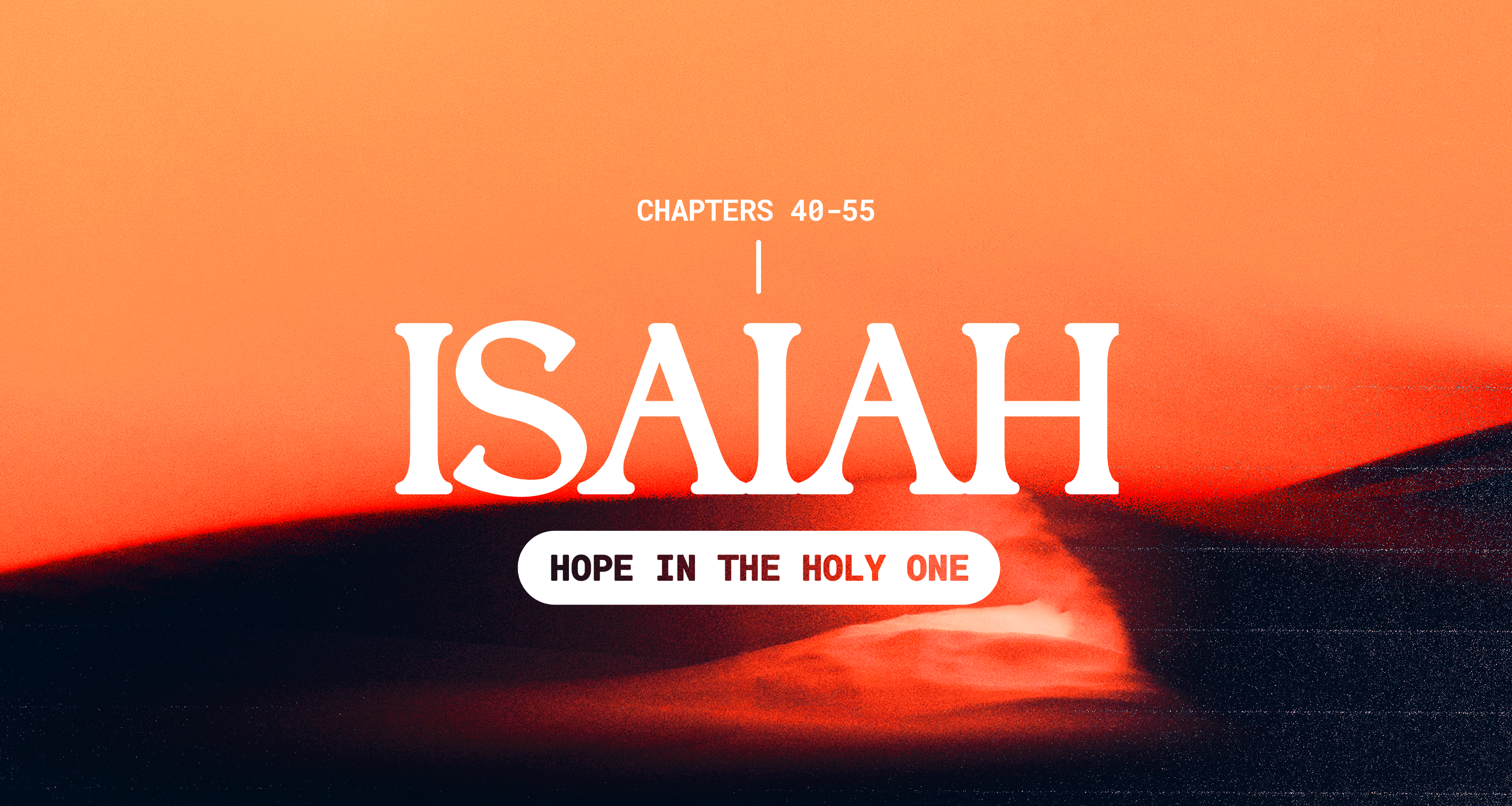 Series: Isaiah: Hope in the Holy One
As we continue our way through this section of the book of Isaiah, Pastor Matt encourages us to Sing to the LORD, not idols. 
How?
1. Prosecute your idols (41:21-29)
2. Behold the Servant (42:1-9)
3. Sing a new song (42:10-17).
Resources:
The Prophecy of Isaiah: An Introduction Commentary by Alec Motyer
Isaiah: God Saves Sinners (Preach the Word Commentary) by Ray Ortlund
ESV Study Bible
Podcast: Play in new window | Download
Sermon Transcript
What idols tempt you? Idolatry isn't just an Old Testament problem, it's a Christian one. The New Testament actually describes converting to faith in Christ as "turning to God from idols to serve the living and true God, 10 and to wait for his Son from heaven, whom he raised from the dead, Jesus who delivers us from the wrath to come" (1 Thessalonians 1:9-10). Sadly, we don't completely leave the idols of our hearts behind at our conversion to Christ. That's why the Apostle John's closing words to a group of beloved Christians were, "Little children, keep yourselves (keep keeping yourselves) from idols" (1 John 5:21). And so I ask, what idols tempt you? As we've repeated over the past few weeks, The New City Catechism – "Idolatry is trusting in created things rather than the creator for hope and happiness, significance and security." Idols are sometimes good things that we make into god-things, which is a very bad thing. Paul Tripp writes, "A desire for a good thing becomes a bad thing when it becomes a ruling thing." What idols tempt you? Your emotions can help answer the question. If you were to pull up your most extreme emotions, you'll probably find your idols dangling at the roots. What idols tempt you?
One of the idols that tempts me is being respected. Being respected, especially by the right people, is a good thing. However, when being respected shifts from being a good thing to a heart-ruling thing, the result is that I get angry with people when I should be content, I tend to personalize what isn't personal, and I exaggerate to make myself seem more interesting than I am, when I should tell the truth. Are you beginning to see why idolatry is so repugnant to God and devastating to us? Idolatry is spiritual adultery. Idolatry is the real problem beneath our sins and negative emotions. As Ray Ortlund writes, "So, this category idolatry really explains something about us. It explains why we all struggle with persistent, enslaving sins that hold us back. The sin itself is only the surface problem, and mere willpower can't get rid of it. The real problem causing the sinful behavior is some idol or other captivating our hearts by promising to make us happy, and we fall for it." In our passage this morning, Isaiah invites us to stop falling for it and learn a far more satisfying way. And we find that way in Isaiah 42:10 – "Sing to the LORD a new song, his praise from the end of the earth." That brings us to the big idea of our passage this morning: Sing to the LORD, not idols. 1. Prosecute your idols (41:21-29) 2. Behold the Servant (42:1-9) 3. Sing a new song (42:10-17).
PROSECUTE YOUR IDOLS
Before he retired, my dad was a lawyer and I even got to go to court to hear him argue a criminal case once or twice. It's so interesting to listen to a prosecutor mount a legal case of evidence against a defendant. In Isaiah 41:21-29, the Lord mounts a legal case against the idols of the nations that don't worship the one true God. In these verses, he prosecutes the idols of the nations and, by extension, the idols of our own hearts. Listen to how the Lord does it beginning in Isaiah 41:21-23 – Set forth your case, says the LORD; bring your proofs, says the King of Jacob. 22 Let them bring them, and tell us what is to happen. Tell us the former things, what they are, that we may consider them, that we may know their outcome; or declare to us the things to come. 23 Tell us what is to come hereafter, that we may know that you are gods; do good, or do harm, that we may be dismayed and terrified. The Lord prosecutes our idols for false-advertising. The prosecution comes in the form of scathing questions: "idols, would you please provide some evidence that you are worthy to be trusted for hope and happiness, significance and security? "Idols, would you please display that you are real by declaring the future before it happens, after all complete knowledge of and control over all the events of history is an essential mark of deity." "Idols, would you do something, anything to prove that you are gods worth trembling before or trusting? We are waiting." The Lord who is the prosecutor is also the jury and he renders his verdict in verse 24: "Behold, you are nothing, and your work is less than nothing; an abomination is he who chooses you." The verdict is repeated in verse 29: "Behold, they are all a delusion; their works are nothing; their metal images are empty wind." The Lord isn't done with the idols. He now contrasts the idols with himself. The idols can't foretell or control a single thing. Now the contrast. Isaiah 41:25-28 – I stirred up one from the north, and he has come, from the rising of the sun, and he shall call upon my name; he shall trample on rulers as on mortar, as the potter treads clay. 26 Who declared it from the beginning, that we might know, and beforehand, that we might say, "He is right"? There was none who declared it, none who proclaimed, none who heard your words. 27 I was the first to say to Zion, "Behold, here they are!" and I give to Jerusalem a herald of good news. 28 But when I look, there is no one; among these there is no counselor who, when I ask, gives an answer. The idols of Babylon never saw Cyrus the Great from Persia coming to conquer Babylon and set Israel free from exile. The Lord, on the other hand, stirred Cyrus up himself and announced the good news of his victorious approach long before it happened. That settles the case. The Lord is the one true God and the idols of the nations and our hearts have been found wanting.
Ok – how does the Lord's lawsuit against idols help us learn how to sing to the Lord, rather than the idols that tempt us? I think that the Lord is providing us with a wise pattern to follow. To sing to the Lord, not idols, prosecute your idols. Put them on trial and find them wanting by asking them the same scathing questions that the Lord does in our passage. Let's practice with a common idol: sex. Sex is a great thing that becomes an awful thing when it becomes a heart ruling thing. Sex can joyfully cultivate the biblical virtue of oneness between a man and a woman in the covenant of marriage. But when we look to sex to give us hope, happiness, significance or security, when it becomes a heart-ruling thing, awful things begin to happen. When sex becomes a heart-ruling thing, husbands and wives are willing to bulldoze or manipulate one another to get more of it, get it differently, withhold it from one another as an unspoken bargaining chip, or pout when we don't get it. When sex becomes a heart-ruling thing, we are willing to violate one another's precious sexuality in the privacy of our minds, which is adultery of the heart. When sex becomes a heart-ruling thing, we believe we are incomplete without it and are willing to transgress God's design and law for sexual flourishing between one man and one woman in the covenant of marriage. When sex rules your heart as an idol, you become its slave. You sing to it. So, how do you sing to the Lord, not sex? You prosecute sex. "Tell me, sex – real or imagined – do you know my future? Sex, do you direct the affairs of history? Sex, can you declare the end from the beginning and secure my future? Huh, I guess you're not worthy to rule me. You're a gift, not God. Get back where you belong." Singing to the Lord begins with prosecuting your idols – and you can do this with other common idols like family, money, career, comfort, etc. Sing to the Lord, not idols, by prosecuting your idols when they tempt you. What would it look like for you to get alone with God or gather with a few godly friends this week and prayerfully prosecute your idols and put them in their place? But prosecuting isn't enough. That brings us to the second way to sing to the Lord, not idols…
BEHOLD THE SERVANT
Have you ever tried to take a toy from a young child when they're playing with it? We parents do it from time-to-time in a well meaning attempt to teach our children to share before they're cognitively able to grasp the concept of sharing. Have you ever done this? It's like setting off a nuclear bomb. That's why wise parents either wait until the child is done playing with the toy or they replace the toy with one that's even more desirable. Friends, we are not so unlike young children. We cannot simply prosecute our idols, find them wanting, and assume that will drive them out. No, since we were created to worship, if we try to drive out our idols without replacing them, our hearts will scream like a toddler whose lost a beloved toy. We need what the 19th century Scottish preacher Thomas Chalmers called the expulsive power of a new affection. We need a greater joy than our idols offer. And that brings us to the Servant.
Isaiah 42:1-9 is the first of four of what are commonly called The Servant Songs in Isaiah, which are fulfilled by Jesus Christ. In Isaiah the Servant is closely related to, but distinct from the Lord himself. It's not until we arrive in the New Testament with its more explicit teaching that there are three persons in one God – the Father, the Son, and the Holy Spirit – that we learn that the Servant is the Lord Jesus Christ, the Son of God the Father, truly human and also truly God. We sing to the Lord, not idols, by beholding our greater joy and one who is infinitely more lovely than our idols, the Servant. How do you behold something? Well, you look at it in all its beauty. So, let's walk our way slowly through Isaiah 42:1-9 and behold the Servant who is so much more captivating than idols.
Isaiah 42:1 – "Behold my servant, whom I uphold, my chosen, in whom my soul delights; I have put my Spirit upon him; he will bring forth justice to the nations." That sounds exactly like the baptism of the Lord Jesus Christ. Luke 3:21-22 – Now when all the people were baptized, and when Jesus also had been baptized and was praying, the heavens were opened, 22 and the Holy Spirit descended on him in bodily form, like a dove; and a voice came from heaven, "You are my beloved Son; with you I am well pleased." The Lord Jesus Christ the divine Servant and the only hope for a truly just world. Let's keep beholding the Servant. Isaiah 42:2-4 – He will not cry aloud or lift up his voice, or make it heard in the street; 3 a bruised reed he will not break, and a faintly burning wick he will not quench; he will faithfully bring forth justice. 4 He will not grow faint or be discouraged till he has established justice in the earth; and the coastlands wait for his law. This part is so wonderful. In his Gospel, Matthew quotes these very verses in Matthew 12:18-21. Here is the scene. The Lord Jesus Christ just healed a man with a withered hand on the sabbath. The Pharisees are now gunning for Jesus. So, Jesus withdrew quietly from public fame, instead of crying aloud in the streets because it wasn't the appointed time for his betrayal, death on the cross for our sins, and resurrection. Behold the Servant. He is so gracious that instead of mowing us down for our weaknesses, like Cyrus of Persia, he quietly moved toward the cross to pay for our sins and rise to give us eternal life. You may feel like a bruised reed, but he won't break you. You may feel like a faintly burning candle, but he won't snuff you out. How could he? He quietly endured the cross for you! Unlike your idols, he'll be with you, will uphold you, and will not break you when you feel week. He's gentle and lowly in heart. Behold the Servant. And the Servant is the light that delivers us from darkness! Isaiah 42:5-9 – Thus says God, the LORD, who created the heavens and stretched them out, who spread out the earth and what comes from it, who gives breath to the people on it and spirit to those who walk in it: 6 "I am the LORD; I have called you in righteousness; I will take you by the hand and keep you; I will give you as a covenant for the people, a light for the nations, 7 to open the eyes that are blind, to bring out the prisoners from the dungeon, from the prison those who sit in darkness. 8 I am the LORD; that is my name; my glory I give to no other, nor my praise to carved idols. 9 Behold, the former things have come to pass, and new things I now declare; before they spring forth I tell you of them." It's probably this passage that stands behind the Lord Jesus' statement in John 8:12 – "I am the light of the world. Whoever follows me will not walk in darkness, but have the light of life." The Servant, the Lord Jesus Christ, is the light in the darkness. He alone is the light; he brings both the light (knowledge) of God, the light of the knowledge of our sins, and the light of the forgiveness of sins through his death and resurrection on our behalf. If you feel like a bruised reed, your idols will only make matters worse and take from you. But the Servant is gentle, lowly, merciful, and with you. Sing to the Lord, not idols, by beholding your greater joy, the servant. Behold him – the place for spiritual disciplines. That brings us to the final way…
SING A NEW SONG
Isaiah 52:10 says, "Sing to the LORD a new song, his praise from the end of the earth." It's a new song because of the greatness of what has now been revealed about the Servant. This new song to the Servant is the song that his people will sing around his heavenly throne joyfully forever when he comes again. Revelation 5:9 – And they sang a new song, saying, "Worthy are you to take the scroll and to open its seals, for you were slain, and by your blood you ransomed people for God from every tribe and language and people and nation, and you have made them a kingdom and priests to our God and they shall reign on the earth." The way that we sing to the Servant, not idols, is by embracing his new song. It's the song of the redeemed from the farthest reaches of the earth who have been ransomed from Hell by the blood that the Servant spilled on the cross for our sins.
How do we sing to the Lord, not idols. Well, we gather with the people of the Servant and we sing. We don't mumble or hum, we open our mouths and we sing to the new song because he's worthy and we need it. And singing to the servant is both worship and its evangelism. We gather each Lord's Day to sing this new song to the Servant and then we scatter all week to declare the new song among all the peoples of the earth so that they will be saved to sing as well. Singing is spiritual warfare. The Lord's Day gathering is an uprising. We sing the new song to the Lord in worship and we declare it to non-Christians in evangelism. Isaiah 42:10-13 – Sing to the LORD a new song, his praise from the end of the earth, you who go down to the sea, and all that fills it, the coastlands and their inhabitants. 11 Let the desert and its cities lift up their voice, the villages that Kedar inhabits; let the habitants of Sela sing for joy, let them shout from the top of the mountains. 12 Let them give glory to the LORD, and declare his praise in the coastlands. 13 The LORD goes out like a mighty man, like a man of war he stirs up his zeal; he cries out, he shouts aloud, he shows himself mighty against his foes. The best way to sing to the Servant, not idols, is by singing the new song and declaring it so that others can be saved to sing as well.
Citylight – we sing to the Servant, not idols, because the Servant came to save us from our idols and is coming again and when he does he will rid this world of all idols and idolatry once and for all. Isaiah 42:14-17 – For a long time I have held my peace; I have kept still and restrained myself; now I will cry out like a woman in labor; I will gasp and pant. 15 I will lay waste mountains and hills, and dry up all their vegetation; I will turn the rivers into islands, and dry up the pools. 16 And I will lead the blind in a way that they do not know, in paths that they have not known I will guide them. I will turn the darkness before them into light, the rough places into level ground. These are the things I do, and I do not forsake them. 17 They are turned back and utterly put to shame, who trust in carved idols, who say to metal images, "You are our gods." Citylight Church, let's sing to the Lord, not idols by prosecuting our idols, beholding the Servant, and singing a new song for the whole world to hear. He is the true joy of our hearts and the One worthy of our song. Sing to the Lord, not idols.